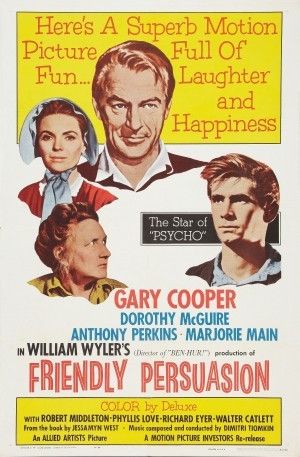 Friendly Persuasion DVD
Cannes Film Festival 1957
Academy Awards, USA 1957
Nominated


Oscar

Best Picture
William Wyler
Best Actor in a Supporting Role
Anthony Perkins
Best Director
William Wyler
Best Writing, Best Screenplay - Adapted
Michael Wilson


Due to being blacklisted Michael Wilson did not receive a screen credit, which under special Academy by-law made him ineligible personally although the writing achievement itself could be eligible. In early 1957 AMPAS instructed Price Waterhouse & Co. not to list any nomination declared ineligible under the by-law and thus this nomination was not included on the final voting ballot. The by-law was laster declared unworkable in January 1959. In December 2002 the Academy reinstated Mr. Wilson's nomination.

Best Sound, Recording
Gordon R. Glennan

(Westrex Sound Services)


Gordon Sawyer

(Samuel Goldwyn SSD)

Best Music, Original Song
Dimitri Tiomkin

(music)


Paul Francis Webster

(lyrics)




For the song "Friendly Persuasion (Thee I Love)".
Allied Artists Pictures
Directed by William Wyler
My rating: 2 stars out of 4
IMDb
(DVD, Warner Bros.)
A Quaker family in rural Indiana tests their faith's call for non-violence when Confederate soldiers threaten their home. Dad Gary Cooper has already made some concessions: such as buying an organ (music is forbidden) and engaging in friendly horse racing with a neighbor. His wife, a preacher, objects but other than sleeping in the barn can't do much about it. His daughter flirts with a Union soldier and, gasp, dances at the fair. His son, Anthony Perkins, faces a more difficult decision: whether or not to pick up a gun and possibly kill another man. The first hour and a half is wasted on the more mundane aspects of their family life, with poor attempts at comedy: Cooper just is not very good at it. By the time the Rebs arrive it's almost an afterthought. More time is spent on the organ than Perkin's struggle with his conscious.